Learn how to get started with Trailhead
But first, what is Trailhead?
Trailhead is Salesforce's own learning platform. It's been provided to help you learn but most importantly to allow you to practice your technical, business, and even soft skills right within the Salesforce platform and even others, in your own time and space. Trailhead is a huge platform with a lot of content to learn Salesforce and complete hands-on challenges.
Sign Up For Your Free Trailhead Account
You don't need a Trailhead login to access its contents. However, you will get access to more content, in particular to the hands-on challenges. Plus, Salesforce takes data security, including your personal data, very seriously. Therefore, it's worth getting an account. It comes with great benefits and helps you take off into a very rewarding Salesforce career.
Simply go to trailhead.salesforce.com and click the Sign-Up button:
Build Your Trailhead Profile - The Salesforce CV of the future
With the help of Trailhead, you will not only gain in-demand skills but also build a sought-after Salesforce career profile which is called a Trailblazer Profile. Salesforce has been improving the look and feels of the Trailblazer Profile page over the past few years and won't stop. It is going to be THE go-to page for recruiters and hiring managers looking for Salesforce Talent.
How does Trailhead work?
The content provided on Trailhead is broken down into guided learning paths which are called Trails. These usually consist of two types of fun hands-on challenges: Topic-specific Modules as well as hands-on projects with step-by-step instructions. You can complete entire Trails or focus on individual Modules and Projects, that's entirely up to you.
Now, each Module or Project is further broken down into bite-size Units. Since there are so many different Modules and Projects available on Trailhead, it can be confusing to understand which ones you need to complete in order to learn for a specific topic or prepare for a specific Salesforce Certification Exam. And that's where so-called Trailmixes come in.
Trailmixes are a collation of carefully selected Modules and Projects which cover the required learning topics. Most Trailmixes are created by Trailhead, however, we've created our own WeLearnSalesforce Trailmixes which are tailored to each of our Salesforce video tutorials and other training materials.
You will find the relevant Trailmix you should be using in your WeLearnSalesforce course details.
Build Up Your Salesforce Skill Set
Every time you complete a unit, Trailhead will verify your solution, for which you will then earn a certain number of points in return. The more correct your solution or answer is, the more points you will get. And whenever you complete an entire Module or Project, you will even earn a badge. These points and badges are automatically added to your Trailblazer Profile. 
Depending on the number of points and badges, you will receive a Trailblazer Rank. First-time Salesforce learners will start off with the "Scout" rank. The more time you spend on Trailhead and the more badges your earn, the closer you will get to the highest achievable rank, the "Ranger" rank.
The best part is, that you can share a link to your Trailblazer Profile in your CV or LinkedIn Profile or anywhere else you like, to enable recruiters and potential employers to see which Salesforce skill you have already gained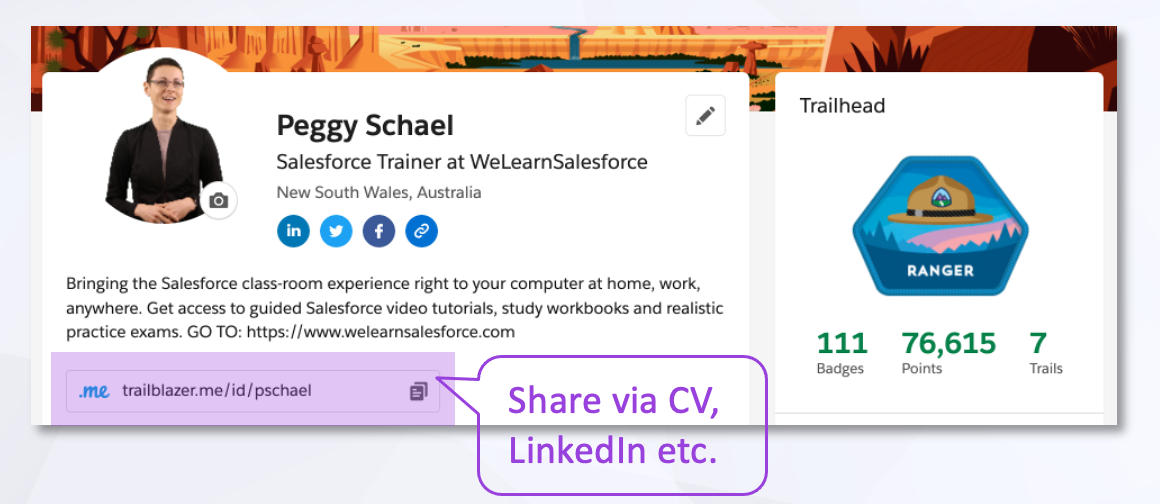 In the follow-along video demo, I will show you how to set up a Trailhead Account if you don't have one yet, how to bookmark the WeLearnSalesforce Trailmix and what your Trailhead Profile is going to look like. Let's go.
Related Articles and Videos
Set Up Your Trailhead Hands-On Org (= Trailhead Playground)
Learn Salesforce With Me
Choose Your Salesforce Certification Course
Get A Complete Video Course Package or Enroll in each Course as you progress.
SIGN UP FOR OUR NEWSLETTER
Receive regular updates on our Salesforce Courses, Workbooks and Practice Exams.